Oroville, CA - Historic Dredge Operation Location:

On the Feather River, Oroville, CA

Size:

1-2 Miles wide, 9 miles long.

Depth:

30 - 40 ft.

First Bucket Line Dredge in California:

1898

Status:

Historic

Production Total

Estimated 1,964,000 oz Gold

See our Custom Map.

Use the Custom Map link above and see an interactive map of the historic dredge works. Look upstream to find the Oroville Dam. CLICK HERE to view the original, detailed map with a legend of dredge activities.
Oroville, California became a topic of interest earlier this year when the Oroville Dam spillway was washed away. Just downriver from the dam is one of the largest historic gold dredging operations in the country. In 1908 there were 35 dredges operated simultaneously on the Feather River at Oroville. Dredging operations were active as late as 1952.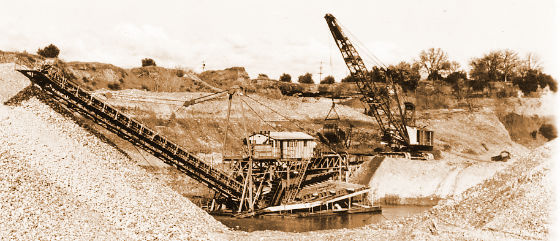 Dredge at Oroville
Monday, July 24, 2017, 05:08 PM
Older Posts